"Mmmm, honey we have to go pick up 15 chickens and 1 roster." I was a bit timid in telling Quinn that after I had purchased the goat babies the day before and brought with me three rabbits, that we now had to go get chickens. Quinn had worked outside all day making a place for Samson, Abigail, and Hannah (the three rabbits). I had helped him some, but was interrupted often by the two hour feeding schedule for the goat babies. Towards the end of the day I had logged into craigslist and found a listing for 15 hens and 1 roster. The group had to go as a whole and the owner only wanted $20.00. I emailed him and asked if he still had theme to no avail. I went on with my business, feeding the kids (human and goats) and getting them all ready for bed. I checked my phone and there was an email from the listing. Then owner said the chickens were available but one person was ahead of me. I sighed and sent a sad face back saying bummer and to let me know if the man didn't get them. Thinking nothing more about it, I went on with my evening routine. Brayden was sitting on the sofa, Arianna was getting pajamas,Quinn was working on this website. I heard my phone ping, indicating I had an email.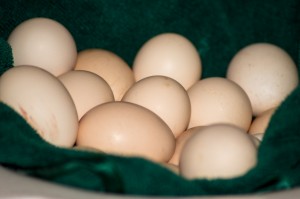 "Shell, the little sad face you added last message caved me. I'm not waiting on the other guy. If you want these little girls (and guy) please call me tonight…" I thought yeah I can get the chickens and then said "oh my it's 8:30." I called the man whose name was Bud. He said he lived an hour away and we could come catch the chickens if we wanted. Apparently he wasn't able to care for them because of his disability. I wrapped my arms around Quinn and thanked him for his hard days work and said "mmmm by the way we have to go get some chickens and oh yeah the place is an hour always, and mmmm we have to catch them."
Now if anyone knows my sweet man, yes he sighed, said something like are you serious, and then said let's go. We still had to find something to put them in and stop to get some cash.
Then children fell asleep in the back seat of the truck while we made our way to Bud's house. When stopped to get the money from the ATM ingot some extra knowing I was supposed to give it to Bud for his chickens.
Bud's wife greeted us. The coop was small and Quinn was surprised over my flash lightening chicken catching skills. In no time all the girls and the rooster were safely bedded in the boxes we brought. Bud came out from the house. A gentle man who was coping with the symptoms of multiple sclerosis. I was moved to give him a hug and thanked him for his kindness.
When I got home, he had sent me a kind email sharing testimony of his faith and thanking me for paying it forward. See I had been praying about the farm and thanking God for every opportunity He would give me to love another through the farm. Bud was one of those people. I knew at the ATM the Holy Spirit was guiding my figures and the amount to withdraw. God set up His perfect plan and a perfect path for us to meet on. Each morning and evening when I go out and throw scratch for the chickens, I hold Bud near in prayer. Each time his little hens give me a perfectly oval brown egg, I sing praises that God knows just what we need and He delivers.